Post by pennyb on Jul 1, 2012 20:56:10 GMT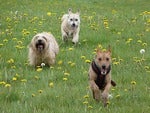 It has also been mooted that an easy way to improve the initial appearance of the Home is to paint a large wall mural on the outside using a local artist and children - the Home are very keen on this idea ;D
I have a friend who is currently in the process of painting murals for the Owl Sanctuary in Ebbw Vale. I'll mention it to her as I know she's really keen on helping the home and I'm sure she'd like to help out

There's a community based art charity (http://www.peoplearoundhere.com/) based in Cardiff who also work with the kids to put across that has worked a lot with the neighbourhood teams of the council - we (Llandaff North) are hopefully working with them soon towards using art and fun stuff to teach kids re picking up dog mess. The idea is you create a project around the main idea involving kids and while being creative its also a learning experience as well which could ultimately help CDH.
It may also be you can't just get anyone, as its cardiff council you're working with ultimately who often have lots of hoops to jump through 1st.
Its also possible you can get a grant for this work anyway especially if you work with young people on it as well and it would hopefully be educational for them and beneficial for others (I got 700 last year from cardiff council for a small art project on hailey park working with a grafitti artist - took about 3 weeks to get). There are also larger pots of money elsewhere and in many cases its about the wording of your proposal geared towards the grant's aims etc.
I guess best way to approach this is to ask within council re similar projects and how they went about it. Or, can't remember whether its Tidy Towns (Lucy Prisk) or Keep Wales Tidy (not sure if this is Chris Partridge or someone else in KWT who's dealt with this in past) who've been involved in doing murals on underpasses around Cardiff - they may know about projects re this and who was involved.